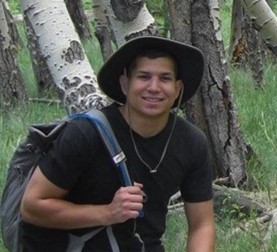 About Eric
Eric James Gruler was an artistic, charming, and witty young man with a heart of gold.   He was kind-hearted, compassionate, and warm. His smile and sense of humor were contagious and sincere.  He was a Protector of those he loved.
Eric was a daredevil.  He liked the adrenaline rush off jumping off mountains, flying on his bike, and swimming with the sharks in Mexico.  He even liked tackling adults like his stepdad and wrestling him to the ground just for the fun of it.  He loved magic and he loved doing magic tricks for kids.  Eric was very loyal – he would say that he would take a bullet for someone he loved.  He was always there when someone needed a hand.  He loved to laugh.  When he thought something was funny, it overtook him with contagious, happy laughter.
Most of all Eric loved his family.  In fact, Eric had a tattoo on the back of his arm that read "Family".  He had a profound and abiding love and respect for people with special needs.  He often spoke out against stereotypes, prejudice, and negative attitudes towards people with special needs.  He loved spending time with and supporting his brother Joey and Auntie Ann Marie.
As a senior in high school, Eric faced a serious wrist injury.  Multiple doctors and several surgeries left him with tumors in his ulnar nerve and he lost function in his right hand.  Because he was left crippled, he was guaranteed an unrestricted supply of opioid pain killers.  In an all-too common story, the painkillers led to heroin which consumed him.  Eric would often say "heroin was like the devil stealing his soul".  He fought hard and through all his struggles with addiction, he would battle the odds to be the young man we knew and loved — full of hope and promise . . . only to resubmerge into the darkness once again.
Eric chose to end his struggle on February 27, 2016.  We miss him every day and we thank God for the gift of the 27 years we had with him.