A Course in Miracles
August 6, 2020 @ 11:00 am

-

12:00 pm
A Course in Miracles with Life Coach Lisa Liss
Every Thursday from 11:00 AM- 12:00 PM (PT)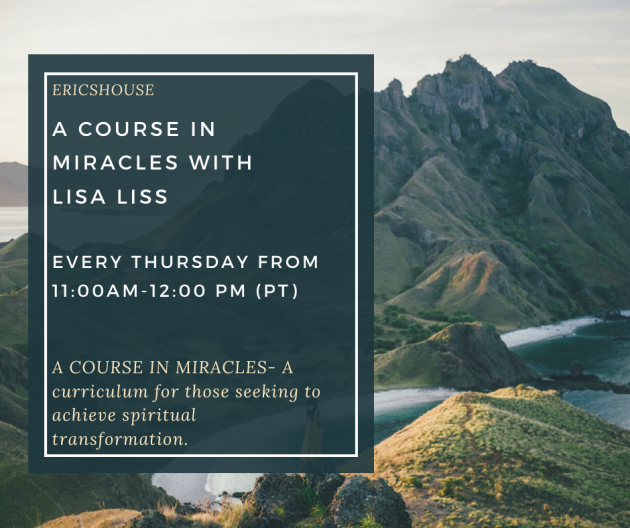 A Course in Miracles is a 1976 book by Helen Schucman. It is a curriculum for those seeking to achieve spiritual transformation. The underlying premise is that the greatest "miracle" is the act of simply gaining a full "awareness of love's presence" in one's own life.
A Course in Miracles defines "miracle" as the conscious choice to make that mind shift, including its non-observable effects on the minds of others. The workbook lessons attempt to train the reader to see oneness in all living things for a steadily increasing time of the day.
Date: Thursday, August 6, 2020
Time: 11:00 AM (PT), 2:00 PM (EST)
Fee: No fee for this session, a LOVE donation is appreciated.
Location: Once you register, you will receive a zoom link invitation for the session.

ABOUT LISA LISS
Lisa has been a Student/Teacher of A Course in Miracles for over 20 years. Although raised in a traditional Irish Catholic family on the East Coast, Lisa started exploring different religions while in college at UCLA. She was first introduced to the teachings of A Course in Miracles at The Wainwright House for Spiritual Studies in New York in the 1980's. As the renowned teacher Marianne Williamson proclaims, "You will know it at once if it speaks to you". While believing that there are many paths, The Course, as it is affectionately called, spoke to her in a profound way. She participated in weekly study groups and facilitated home study discussions for the next 10 years before moving West. In AZ she continued study at the New Vision Center for Spiritual Living. An early follower of Marianne Williamson, she has attended workshops with prominent teachers Robert Perry and Jon Mundy, and is a member of the Teachers of God Foundation. Lisa is also a Martha Beck trained Life Coach helping women heal their relationships since 2009.