Overdose Loss- A Dad's Healing Journey
September 1, 2020 @ 5:30 pm

-

6:15 pm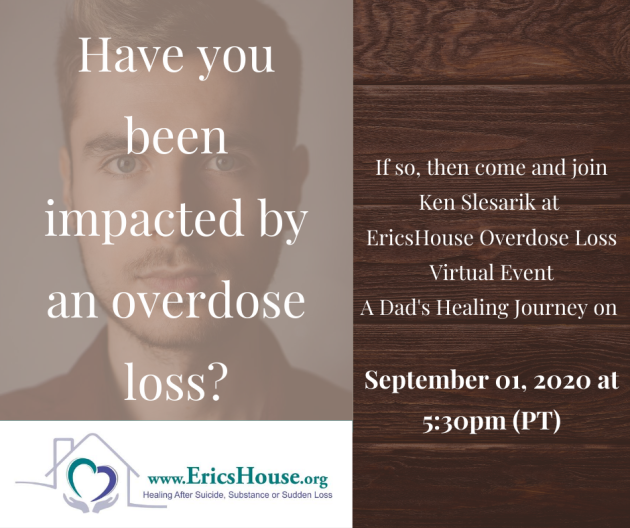 Join us on Tuesday, September 01, 2020, at 5:30 PM (PT), for a candid interview with Ken Slesarik for Overdose Loss – A Dad's Healing Journey.
Ken will share the story of his loss of his son Kenny to an accidental fentanyl overdose in December, 2019 and his subsequent support through EricsHouse, including our Men's Group.
Date: Tuesday, September 01, 2020
Time: 5:30 PM (PT), 8:30 PM (EST)
Cost: There is no cost for this event, but a LOVE donation is greatly appreciated.
Location: This is a VIRTUAL session. You will receive a zoom meeting link after you register.
About Ken Slesarik:
Ken Slesarik is a special education teacher and children's poet from Phoenix, Arizona. He is the husband to Julie and the father of Kenny, who died of an accidental drug overdose in December of 2019. Ken also has two lovely daughters named Cathy and Bonnie and is the stepfather to Derek and Justin. Kenny loved music, animals and basketball. He was an amazing twenty-four-year-old with a beautiful soul. Unfortunately, he was self-medicating and one counterfeit pain pill, laced with a fatal dose of fentanyl, killed him. A solid friend to many, he was vibrantly helping, encouraging and loving his friends and family right up until his last day. Ken is a supporter of "EricsHouse" and participant in its support group for grieving men.